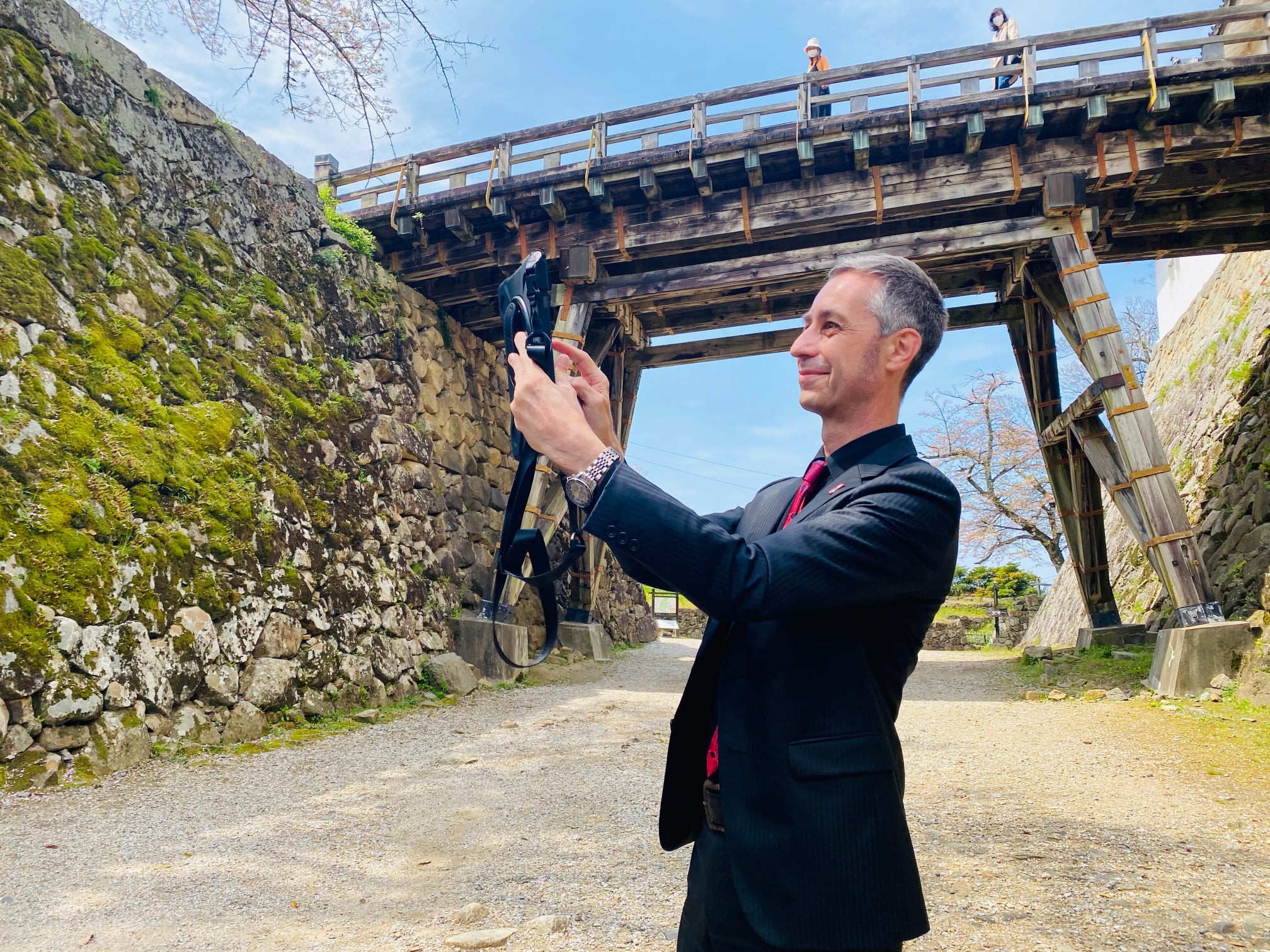 Was at National Treasure designated Hikone Castle in Shiga Prefecture today for the press release of the " National Treasure Hikone Castle Explorer" App, produced by my company, PPF (Past Present Future Ltd.) and the OTB, (Omi Tourism Board) as part of the Ministry of Cultural Affairs', Cultural Properties, Multilingual Commentary Maintenance Project.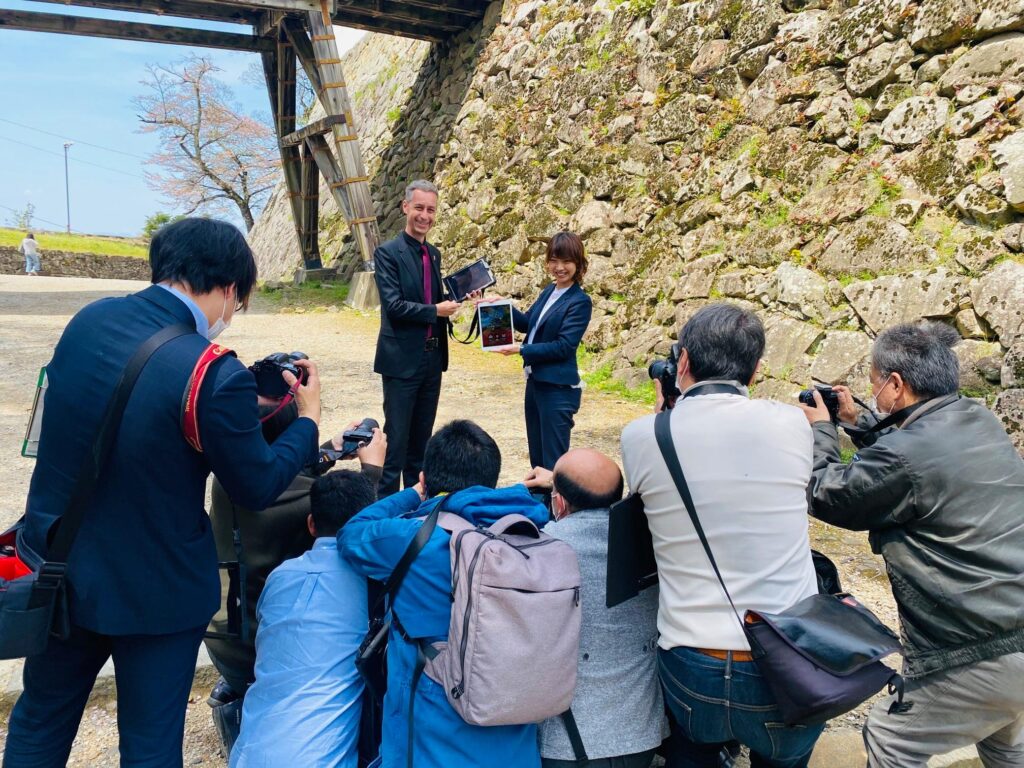 The main features of this entertaining and informative National Treasure Hikone Castle Explorer Apps are;
• Video Presentation. In the app's video section, I guide visitors through the castle's many ingenious defensive features and reveal the secrets of Hikone Castle, it's highlights and key points mostly often missed by tourists, and with the use of CG, show you how the castle looked in the days of the samurai. There are 10 video presentations in the App, and these can be enjoyed as a virtual tour of Hikone Castle at home, or watch it as you visit the castle site itself.
• Siege Game. The App contains a game where you can test your skills attacking Hikone Castle at 4 different points. As you progress, the play experience difficulty level increases. The CG used in the game is a must-see! The game can only be enjoyed within the grounds of Hikone Castle to make it an even more realistic experience.
• Map Screen. Navigate your way around Hikone Castle and read explanations of Hikone's features and history. You can also follow Hikone Castle Museum information from the map screen.
• Samurai Helmet AR Photo. Take photos of yourself, friends and family wearing the AR samurai helmet of Hikone Castle's first feudal lord, Ii Naomasa.
• The App is available in four languages: English, Japanese, Simplified and Traditional Chinese.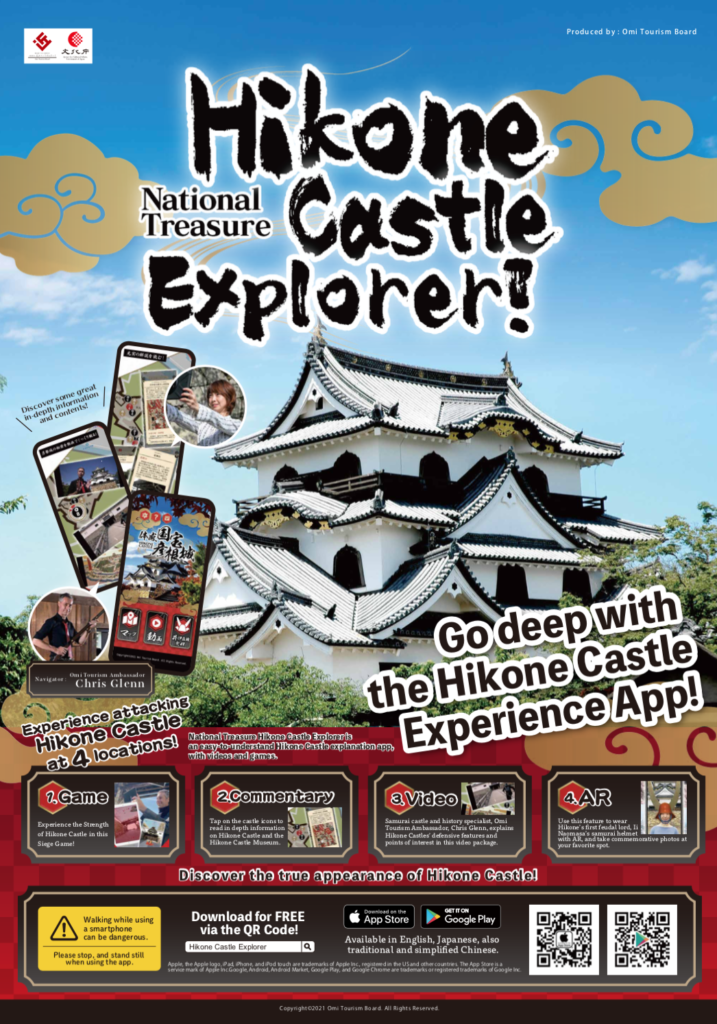 This app is mainly targeted at European, US and Australian tourists, so instead of simply translating from Japanese to English as is usually done, we started by creating it in English first to meet the needs and understanding of the target tourists, and later translated my written scripts into Japanese and both simplified & traditional Chinese.
As you walk around Hikone Castle you can discover, and better understand the highlights of Hikone Castle, the ingenuity of defenses, its key points and splendor.
This "National Treasure Hikone Castle Explorer" App is available for anyone anywhere to enjoy. Naturally, some features, such as the Siege Game can only be enjoyed at the castle site itself, but the rest can be downloaded via App Store or Google Play and enjoyed as a virtual tour of Hikone Castle at home.
App supervision
Past Present Future Co., Ltd.
Chris Glenn